Christian Fries_Bild: Rolf K. Wegst
Christian Fries, D.
Born in 1959 in Duisburg, lives in Münster. Degree in philosophy from Cologne, piano studies in Düsseldorf, then studied acting at Berlin University of the Arts. Spent formative years in Vienna (1988–92).
Actor and director
Today works as actor and director, currently in Gießen. Award of the Theaterzwang festival 2002 for his production of Kafka: Der Bau.
Christian Fries: Videoportrait
Christian Fries_Bild: Rolf K. Wegst
Publications
Vater gibt seinen Weinhandel auf. Prose, scenes. Helmut Lang Verlag 2009.
Zweieinhalb. Audio pieces. first performed at Theater im Pumpenhaus, Münster 1998, with Jan Klare (saxophone).
Men at work. Theatre scenes. first performed at Theater im Ballsaal, Bonn 2003, with theatre company neubau.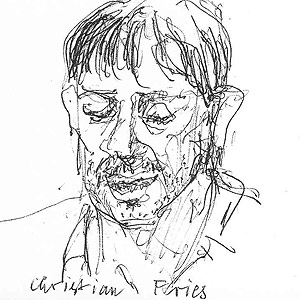 Christian Fries Skizze von Annelore ReskiSkizze: Annelore Reski
In Progress

"Miary-Diary". Short prose pieces.
"KR. Kleiner Roman über die Angst".
"Tiefer in den Wald hinein". Walking protocols. About walking and the compulsive idea that the I has to become other than it is. Work in progress.

Banner_2010_blau