Peter Wawerzinek, D.
Born in 1954 in Rostock, lives in Berlin. Moved to East Berlin in 1978, studied Art (but did not complete the degree), various jobs (including gravedigger, carpenter). In the 1980s, performance artist and impromptu poet.
Autobiographical work

Peter Wawerzinek (birth name Peter Runkel) was left behind by his parents in the GDR as a small child. He grew up in children's homes in the GDR and as an adoptive child by the Baltic Sea.
Many of his works are autobiographical. Also writes song lyrics and journalistic texts.
His book "Rabenliebe" will be published in autumn 2010 by Galiani Berlin.
Peter Wawerzinek: Videoportrait
Kamera: Steffen Sebastian
Musik: Lukas Rauchstein
Peter Wawerzinek_Bild: Lilo Viehweg
Publications (Selection)

Es war einmal. UVA-Verlagsanstalt 1990.
Café Komplott. :Transit Buchverlag 1998.
Sperrzone reines Deutschland. :Transit Buchverlag 2001.
Mein Salzkammergut. editionas St.Wolfgang 2008.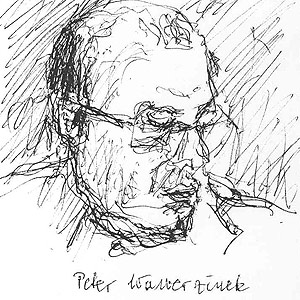 Peter Wawerzinek (Skizze: Annelore Reski)Skizze: Annelore Reski
Awards (Selection)

Bertelsmann scholarship at the Ingeborg Bachmann Prize 1991.
Radio play prize of the Academy of Arts in Berlin 1993.
Scholarship of the foundation Preußische Seehandlung 2009.
Homepage: Peter Wawerzinek


Banner_2010_blau