Aleks Scholz, D.
Born in 1975 in Gera, currently lives in Dublin (IRL) Doctorate in astronomy. After research stays in Canada and Scotland, he is currently Schroedinger Fellow at the Dublin Institute for Advanced Studies in Ireland.
Publications in various newspapers and online
Published "Lexikon des Unwissens" (Rowohlt, 2007) together with Kathrin Passig as well as "Verirren – eine Anleitung für Anfänger und Fortgeschrittene" (Rowohlt, 2010). His texts have been published in Der Standard, taz, Süddeutsche Zeitung, Spiegel Online, Zeit, and others.
Aleks Scholz: Videoportrait
Regie: Lars Hubrich
Aleks Scholz_Bild: Susanne Schleyer
Editor of riesenmaschine.de
Editor of weblogs riesenmaschine.de, which has received the Grimme award, and co-editor of the book accompanying the weblog Riesenmaschine – das Beste aus dem brandneuen Universum (Heyne, 2007).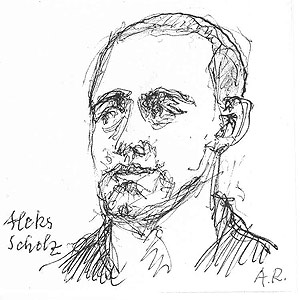 Aleks Scholz (Skizze: Annelore Reski)Skizze: Annelore Reski
Online, he writes for lesemaschine.de, hoeflichepaparazzi.de and airport-hiking.blogspot.com.
Homepage: Aleks Scholz

Banner_2010_blau