Klagenfurt Address on Literature
This year, the Klagenfurt Address on Literature will be delivered by Carinthian author Josef Winkler. Winkler was born in 1953 in Kamering and has been a freelance author since 1982. He lives in Klagenfurt.
24. June, 8.30 p.m.
ORF-Theatre, Sponheimerstraße 13, Klagenfurt
Publications (selection):
Menschenkind. Suhrkamp 1979.
Der Ackermann aus Kärnten. Suhrkamp 1980.
Muttersprache. Suhrkamp 1982.
Friedhof der bitteren Orangen. Suhrkamp 1990.
Das Zöglingsheft des Jean Genet. Suhrkamp1992.
Domra. Suhrkamp 1996.
Natura Morta. Suhrkamp 2001.
Leichnam, seine Familie belauernd. Suhrkamp 2003.
Roppongi. Suhrkamp 2007.
Ich reiß mir eine Wimper aus und stech dich damit tot. Suhrkamp 2008.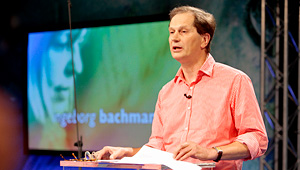 Josef Winkler (Bild: ORF/Johannes Puch)

Prizes (selection):
Special Prize of the Klagenfurt Jury 1979.
Alfred Döblin Prize 2001.
Premio Lateral 2005.
Franz Nabl Prize 2005.
Grand Austrian State Prize 2007.
Georg Büchner Prize 2008.