Twelfth Klagenfurt Literature Course
From June 22 – 26 2008, the City of Klagenfurt's cultural section together with the ORF Provincial Studio will be staging the twelfth Klagenfurt Literature Course to which again ten writers are invited.
Literature Course Jury 2008
For the first time this year, Friederike Kretzen, Inka Parei and Ferdinand Schmatz, tutors on the Literature Course, have chosen their scholarship holders themselves.
Tutors and scholarship holders
Program for the 12th Literature Course

A pre-requisite: "An appetite for more"
"Generally, such discussions concern themselves less with the actual technicalities of writing and more with a critique of that already written, with a forward glance at each participant's future work. What is commonly accepted as connected with "learning to write" is already assumed: mastery of the basic rules in Duden, a personal sense of unease with those rules and with everything that has already been written, and an appetite for more. A writer establishes himself and his relationship to the world through his writing – it is this that needs working on, nothing else."
Steffen Popp (scholarship holder Literature Course, 2003)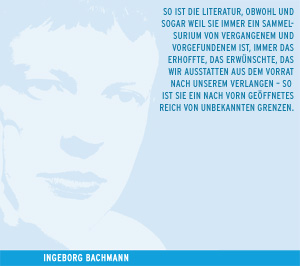 The truffle pig on the literature scene
Each year the readings presented by the Klagenfurt Literature Course scholarship holders are a highlight in advance of the German Literature Days event.
For the writer Gabrielle Visser, the Klagenfurt Literature Course has long been the "truffle pig" on the German speaking literature scene:
"Unerringly, the Course sniffs out new literary talent and helps them take that first step onto the literature stage. Those whose work convinces the Klagenfurt jurors and tutors will often find themselves published by the big publishers within a few years – and will play in a higher literature league in the future."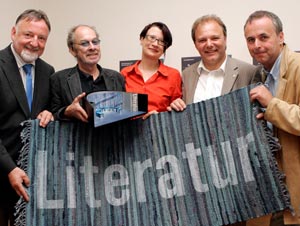 The "Literature Course Team": ORF provincial director Willy Haslitzer, designer H.P. Maya, TDDL organiser Michaela Monschein, city councillor for culture Albert Gunzer and Literature Course organiser Heimo Strempfl.
Links:
Robert Musil Literaturmuseum
Beginn mit Bertelsmann
Archiv: Elfter Literaturkurs
Anfrage per E-Mail