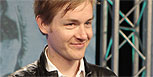 IBP_Jens Petersen (Bild: ORF/Puch)
Jens Petersen: a giant of literature
32-year old doctor and writer Jens Petersen did not just tower above his competitors at the 33rd Festival of German-Language Literature physically. With his novel excerpt "Bis dass der Tod", the two-metre man outrivalled all others and won the Ingeborg Bachmann Prize.
Unpretentious attitude
The doctor was entirely without pretensions. Even on Saturday, when he was already mentioned as the favourite candidate for the main prize, he credibly referred to his competitors' chances, without considering them as competitors.
Characteristic for Petersen: when Paul Jandl on Saturday formally took back his reproach of kitsch, which he had levelled at Petersen's text the day before, Petersen was annoyed that Jandl this way pushed Gregor Sander's text into the background. "You can't do that", he grumbled.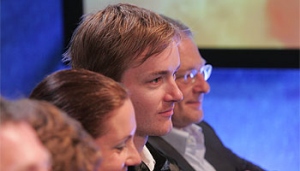 IBP_Jens Petersen (Bild: ORF/Puch)
A love of detail formed by his profession
He had always had an urge to write, he said. It started when he was a very young man, and Petersen also worked as a journalist. "I see a lot of pain in my work", he says about his everyday life as a doctor. This pain urges him to process it through literature.
His skill to produce a precise diagnosis based on observation and measurements naturally has an effect on his literature. Petersen's characters are defined and precise; critics have even complained in the past that his work is too true to detail. It is his way of processing his everyday experiences as a doctor, which he considers his vocation: "What's interesting is that you deal with people in a very direct way", says the driver of a convertible.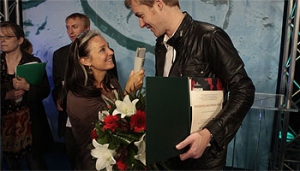 IBP_Jens Petersen (Bild: ORF/Puch)
Formative experiences with pain and death
One needs a spiritual refuge when dealing with such different worlds as medicine and writing, he believes. Experiences with pain and death are of course also formative for his literature. "The things that you experience directly, I believe, are particularly formative." This is where he derives his inspiration from.
It is not always easy for him to perform such a balancing act. As a doctor, he has to suppress his creativity, he says, and as a writer, on the other hand, he feels he sometimes lacks structure. He wishes that it would be the other way around a little.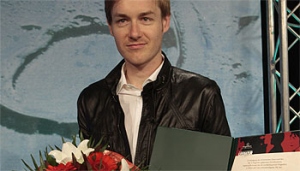 IBP_Jens Petersen (Bild: ORF/Puch)
Risk-taking paid off
He took a great risk for the competition, for even long-term observers cannot remember an author ever submitting the final chapter of a novel. The risk paid off: Petersen leaves Klagenfurt 25,000 euros and many headlines richer.