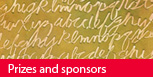 Prizes and sponsors (Bild: ORF)
Prizes and Sponsors
At the 35th Festival of German Language Literature five prizes will once again be awarded: The Bachmann Prize, the Kelag Prize, the Ernst Willner Prize, the 3sat Prize and for the first time the VILLIglas Audience Award.
Ingeborg Bachmann-Prize
25.000 euros, donated by the provincial capital of Klagenfurt
kelag-Prize
10.000 euros, donated by Kärntner Elektrizitäts- und Aktiengesellschaft

3sat-Prize
7.500 euros, donated by 3sat, the joint channel of the four public broadcasting stations ZDF, ORF, SF and ARD.

Ernst-Willner-Prize
7.000 euros, donated by publishing houses in Germany, Switzerland and Austria.

VILLI-Audience-Award*
7.000 euros, donated by Phillip Daniel Merckle, owner of VILLIglas.
* Award: Public vote exclusively via the Internet
* Voting: Saturday 9th July, 15:00 to 20:00
* Voting options: http://bachmannpreis.eu, www.3sat.de, world-in-balance.de, www.klagenfurt.at and musilmuseum.at

Banner_TDDL2011 (Bild: ORF)