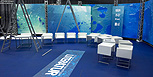 Stage Design
The stage design for the German Literature Days is presenting itself in a totally new orientation this year. Not only has the way that things are arranged in the ORF Theatre changed but also the arrangement of readers and jury members has become much more open and flexible.
The Focus is on the Authors

Also for the new moderator Dieter Moor, there is a new way of acting and defining his function. It goes without saying that the focus is always on the authors.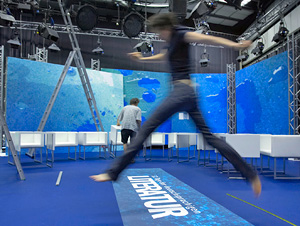 In contrast to the usual round horizon, there is now an arrangement of single segments, which are connected to each other through metal elements. A larger screen that is part of the scenery set has opened up additional and new design opportunities.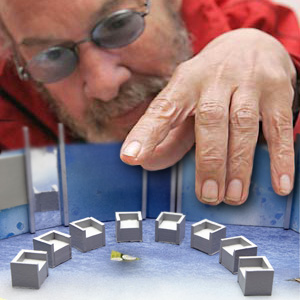 Awakening Water Associations 

From an optical perspective, the tableau does not coincidentally remind one of water. And lately the regional capital has been called Klagenfurt on the Sea of Words. The Sea of Words is not far away.... And words are also the focus of the German Literature Days.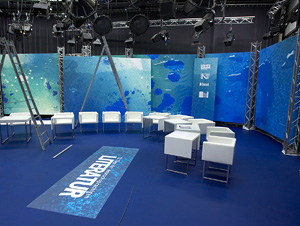 "The Stage Design belongs to the Background"
For H.P. Maya, who is creating the stage design for the ORF Theatre already for the 22nd time, it is a matter of great concern to create more than just a decoration. His stage designs do not want to force themselves into the foreground. For the artist from Carinthia, it is important to create a sensibly formed space for the readers.

Heinz Peter Maya, born in Villach in 1944


Maya attended the Federal School for Applied Arts in Graz and took master classes for painting from Professor Szyszkowitz. As a student, he spent time abroad in Rome and in Munich and has gone on trips through Europe, Africa (Sahara) and USA.
He has had individual exhibitions in Austria, Germany, Switzerland and Italy and he has also participated in international exhibitions and art fairs.
His artistic versatility can be seen in his paintings, graphics, micro experiments, work with plants and trees as well as in his stage work for theatre and television.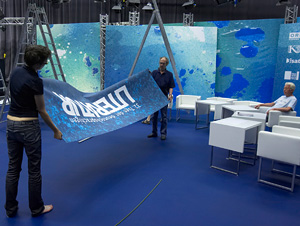 He has coordinated and organised many art projects and exhibitions and has taken part in the Biennale INTART, Projekt Alpen and the Carinthia Art Union. He has also done photo documentation and film animation.
His works can be found in numerous art collections, museums (Albertina, Wolfgang Gurlitt Museum, Kärntner Landesgalerie, Museum Bochum, etc.) and in private collections as well.
"Heinz Peter Maya organises projects, resists the comfortable self-image that the inhabitants of Carinthia have of themselves and tries to present art as an aesthetic project and counter-project of society for the sake of discussion and organises open spaces to this end." (Fred Dickermann)