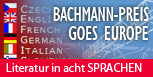 Bachmannpreis goes Europe (Bild: ORF)
The 35th Festival of German Language Literature online in 8 languages
Translating is crossing borders, building bridges and "poetic adaptation". For the fourth time now, all fourteen entries will be going online in eight languages as part of the "Bachmann Prize goes Europe" Internet project.
Bachmann Prize – more "European" than ever
The Ingeborg Bachmann Prize is undisputedly the most important literary award in the German-speaking world, along with the Joseph Breitbach Prize and the Georg Büchner Prize.
But since it was first held in 1977 the competition has polarised opinion like no other: is it a celebration of literature? A poets' market? A type of exchange? (Literary critic Marcel Reich-Ranicki)
Well, the fact remains that the Bachmann Prize is still with us, and, in the 34th year of its existence it's more "European" than ever.
14 entries in eight languages
The aim of the "Bachmann Prize goes Europe" project is to give German-language writers a big European platform for getting published.
In addition to the English translation of the judges'- discussion – which you can read in the NEWS selection of http://bachmannpreis.eu the authors' fourteen competition entries are being translated into eight languages: English, French, Czech, Slovenian, Spanish, Italian, Croatian and English.
FGLL 2010: The literary translators

English:

Stefan Tobler
Katy Derbyshire



French:

Leila Pellisier
Bernard Banoun
Barbara Fontaine
Florence Tenenbaum
Gaëlle Guicheney
Jean Bertrand

Czech:

Radovan Charvát

Slovenia:
Amalia Maček
Urska P. Černe

Spanish:

Nicolas Gelormini

Italian:

Vito Punzi

Croatia:

Nataša Medved
Sabine Maric





The Festival of German-Language Literature is a series of events organised by the ORF Landesstudio Kärnten and the provincial capital of Klagenfurt in association with 3sat and the support of kelag and Hypo Group Alpe Adria.
Thanks to: all supporters, promoters and friends of the Festival of German-Language Literature. A project of this kind can only succeed if we all work together.

Banner_TDDL2011 (Bild: ORF)